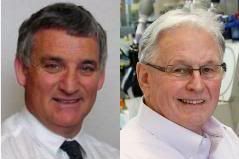 Mervyn J. Merrilees1 and Thomas N. Wight2,3 – biography
1The University of Auckland
2Benaroya Research Institute at Virginia Mason
3University of Washington
Versican is a chondroitin sulfate (CS) proteoglycan present in the interstitial space of all tissues and is notably elevated during early development, where it plays a key role in organogenesis, and later in numerous pathologies, often those affecting major organs such as vessels, lung and skin [1]. Accumulating evidence indicates that versican is of critical importance in chronic vascular diseases including atherosclerosis, aneurysms and restenosis [2]. Versican is also elevated in many types of cancers and can directly influence the metastatic potential of tumors [3-6]. Versican increases in the airways and parenchyma of lungs affected by emphysema and chronic obstructive pulmonary disease (COPD), and is elevated in some rare lung diseases such as lymphangioleiomyomatosis (LAM) [7]. Recent evidence indicates it is a central player in inflammation, which broadens its importance to acute events in tissue repair. Versican is thus emerging as a potential target promising wide therapeutic benefits.
Versican is highly interactive with versatility reflected in its name. The versican gene and protein follow a domain template with an amino-terminal globular domain (G1) that binds hyaluronan, a carboxy-terminal globular domain (G3) similar to the selectin family of proteins with a C-type lectin adjacent to two epidermal growth factor domains and a complement region, and a middle region encoded by two large exons specifying CS attachment regions [8].
Versican's innate complexity is further reflected by alternative splicing of exons 7 and 8 that encode the glycosaminoglycan (GAG) attachment domains, giving rise to V0, V1, V2, and V3 variants. V3 has neither of these exons, so is without GAG chains, but paradoxically has a demonstrated ability to dramatically influence structure and composition of the extracellular matrix (ECM) in potentially beneficial ways [2,9]. In addition to variation in core protein size due to splicing, the CS chains also vary in size (25 to 80kDa) as does composition, depending on tissue source and stimuli, with variation in the ratio of chondroitin-6-sulfate to chondroitin-4-sulfate. Expression of the versican gene is regulated by a promoter harboring a typical TATA box, β-catenin/TCF response elements and potential binding sites for transcription factors such as SP1, p53, AP1, AP2, CCAAT enhancer protein, and cAMP-responsive elements [10,11]. Regulation of core protein synthesis can be at transcriptional and posttranscriptional levels.
Studies on vessels have contributed most to our understanding of the roles of versican in pathogenesis. It is present in early intimal thickenings, and is elevated in human vessels susceptible to atherosclerosis. It contributes to intimal expansion and intimal progression and conversely its degradation is accompanied by lesion regression [12]. It is present around the core of large lesions and there is good evidence that its CS chains interact with and retain LDL in the vessel wall; it is thus central to the response-to-retention hypothesis of atherogenesis. Binding sites for versican have been identified in human apoprotein B of LDL, and expression of mutated apoB with defective binding dramatically ameliorates development of lesions in animals fed a high fat diet [13].
Versican is also elevated in aneurysms and restenosis, two conditions in which there is substantial remodelling of tissues, including marked changes to elastic fibers for which the GAG-containing variants are negative regulators. Assembly of elastic fibers, which involves incorporation of tropoelastin onto the microfibrillar scaffold, a process mediated via cell surface elastin binding protein, is inhibited by CS. On the other hand, over-expression of V3 lacking CS chains decreases the tissue content of the CS-containing versican variants and markedly enhances elastogenesis and the assembly of elastic fibers in the matrix [14]. Alternatively, decreasing CS-containing versican variants by over-expression of V3 or application of versican antisense sequences similarly promotes elastogenesis [15]. V3 also increases deposition of elastin by skin fibroblasts, and has been utilized in vitro to correct the elastin deficiency that characterizes Costello syndrome [16]. This inverse relationship between versican and elastin is also present in lungs affected by LAM and COPD, and in the latter versican levels correlate negatively with lung function measures such as FEV1 [7]. This opens up the possibility for V3 or versican antisense interventions in these respiratory diseases.
Recently, we demonstrated that manipulation of versican levels in the repair tissue (neointima) of balloon-injured arterial wall, through over-expression of V3, dramatically remodels the ECM, resulting in a compact, elastin-enriched and layered neointima that is not only resistant to cholesterol deposition, but also to macrophage ingress [9]. The reduced deposition of cholesterol is consistent with versican's role in retaining lipoproteins, but the additional advantage of reducing inflammation broadens the benefits of targeting the CS-containing versican variants.
Several lines of evidence point to versican as an important mediator of inflammation, as well as being a prometastatic agent. Versican V1 stimulates proinflammatory cytokines tumor necrosis factor- (TNF-) and interleukin 6 through the Toll 2 receptor [4], and mediates leukocyte aggregation through binding to P-selectin glycoprotein ligand-1 [17]. Further, versican promotes adhesion of monocytes in a hyaluronan-dependent manner, an interaction that that is significantly reduced in matrices in which versican has been reduced by versican antisense or by V3-expression [9], versican shRNA [6] or blocked by an antibody to versican [18]. Such findings highlight a potential therapeutic application for targeting versican as anti-inflammatory therapy in the treatment of diseases such as atherosclerosis and cancer.
The association between versican and metastasis is clearly illustrated by breast and prostate cancers, where elevated levels of peritumoral stromal versican correlate positively with tumor grade and invasiveness [5]. Experimental evidence demonstrating that versican is central to metastasis comes from studies on Lewis lung carcinoma (LLC) cells. Versican from LLC cells directly mediates metastasis through activation of Toll-like receptor 2 on macrophages which then up-regulate TNF-. Elevated expression of versican is seen in myeloid progenitor cells in metastatic lungs in a mouse model of breast cancer and in the metastatic lungs of human patients with breast cancer [3]. Knockdown of versican in the bone marrow progenitor cells significantly impairs lung metastasis in this breast cancer mouse model. In addition, lung metastases that develop in a murine model of bladder cancer could be controlled by targeting tumor expression of versican [6].
In summary, the GAG-containing versican variants are emerging as potential targets for therapeutic intervention across a variety of conditions where tissues are undergoing growth and remodelling associated with expansion, degradation and inflammation. Interestingly and seemingly paradoxically, the variant without GAG chains, V3, acts to counter the changes induced by its parent molecules, dampening growth and inflammation and promoting formation of elastin-rich and differentiated tissues.
References
Wight TN: Versican: a versatile extracellular matrix proteoglycan in cell biology. Curr Opin Cell Biol 2002, 14:617-623.
Wight TN, Merrilees MJ: Proteoglycans in atherosclerosis and restenosis: key roles for versican. Circ Res 2004, 94:1158-1167.
Gao D, Joshi N, Choi H, Ryu S, Hahn M, Catena R, Sadik H, Argani P, Wagner P, Vahdat LT, et al.: Myeloid progenitor cells in the premetastatic lung promote metastases by Inducing mesenchymal to epithelial transition. Cancer Res 2012, In press.
Kim S, Takahashi H, Lin WW, Descargues P, Grivennikov S, Kim Y, Luo JL, Karin M: Carcinoma-produced factors activate myeloid cells through TLR2 to stimulate metastasis. Nature 2009, 457:102-106.
Ricciardelli C, Sakko AJ, Ween MP, Russell DL, Horsfall DJ: The biological role and regulation of versican levels in cancer. Cancer Metastasis Rev 2009, 28:233-245.
Said N, Sanchez-Carbayo M, Smith SC, Theodorescu D: RhoGDI2 suppresses lung metastasis in mice by reducing tumor versican expression and macrophage infiltration. J Clin Invest 2012, In press
Merrilees M, Ching P, Beaumont B, Hinek A, Wight T, Black P: Changes in elastin,elastin binding protein and versican in alveoli in chronic obstructive pulmonary disease. Respir Res 2008, 18:41-50.
Zimmermann DR, Ruoslahti E: Multiple domains of the large fibroblast proteoglycan, versican. EMBO J 1989, 8:2975-2981.
Merrilees MJ, Beaumont BW, Braun KR, Thomas AC, Kang I, Hinek A, Passi A, Wight TN: Neointima formed by arterial smooth muscle cells expressing versican variant v3 is resistant to lipid and macrophage accumulation. Arterioscler Thromb Vasc Biol 2011, 31:1309-1316.
Domenzain-Reyna C, Hernandez D, Miquel-Serra L, Docampo MJ, Badenas C, Fabra A, Bassols A: Structure and regulation of the versican promoter: the versican promoter is regulated by AP-1 and TCF transcription factors in invasive human melanoma cells. J Biol Chem 2009, 284:12306-12317.
Rahmani M, Wong BW, Ang L, Cheung CC, Carthy JM, Walinski H, McManus BM: Versican: signaling to transcriptional control pathways. Can J Physiol Pharmacol 2006, 84:77-92.
Kenagy RD, Plaas AH, Wight TN: Versican degradation and vascular disease. Trends Cardiovasc Med 2006, 16:209-215.
Borén J, Olin K, Lee I, Chait A, Wight TN, Innerarity TL: Identification of a principal proteoglycan binding site in LDL: A single point mutation in apo B-100 severely affects proteoglycan interaction without affecting LDL receptor binding. J. Clin. Invest. 1998, 101:2658-2664.
Merrilees MJ, Lemire JM, Fischer JW, Kinsella MG, Braun KR, Clowes AW, Wight TN: Retrovirally mediated overexpression of versican v3 by arterial smooth muscle cells induces tropoelastin synthesis and elastic fiber formation in vitro and in neointima after vascular injury. Circ Res 2002, 90:481-487.
Huang R, Merrilees MJ, Braun K, Beaumont B, Lemire J, Clowes AW, Hinek A, Wight TN: Inhibition of versican synthesis by antisense alters smooth muscle cell phenotype and induces elastic fiber formation in vitro and in neointima after vessel injury. Circ Res 2006, 98:370-377.
Hinek A, Braun KR, Liu K, Wang Y, Wight TN: Retrovirally mediated overexpression of versican v3 reverses impaired elastogenesis and heightened proliferation exhibited by fibroblasts from Costello syndrome and Hurler disease patients. Am J Pathol 2004, 164:119-131.
Zheng PS, Vais D, Lapierre D, Liang YY, Lee V, Yang BL, Yang BB: PG-M/versican binds to P-selectin glycoprotein ligand-1 and mediates leukocyte aggregation. J Cell Sci 2004, 117:5887-5895.
Potter-Perigo S, Johnson PY, Evanko SP, Chan CK, Braun KR, Wilkinson TS, Altman LC, Wight TN: Polyinosine-polycytidylic acid stimulates versican accumulation in the extracellular matrix promoting monocyte adhesion. Am J Respir Cell Mol Biol 2010, 43:109-120.
doi: 10.1016/j.ceb.2013.01.001
Current Comments contain the personal views of the authors who, as experts, reflect on the direction of future research in their field.
Home – Cell Biology – Genetics & Development – Pharmacology - Structural Biology